Other Services
CBCT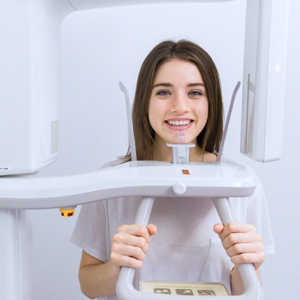 Our Chesterfield Office is equipped with a state of the art VaTech Pax-i3D SMART, low dose Cone Beam Computed Tomography (CBCT) machine. This CT machine creates 3D and 2D images of your teeth and jaws that are used to help diagnose and plan your dental treatment.
Our CBCT machine uses a relatively small amount of radiation (13.3 mrem) to acquire an image. In comparison, living in high altitude (i.e. Colorado) you will be exposed to an additional 63 mrem of radiation per year; or taking a return flight from NYC to LA, will expose you to an additional 12.3 mrem of radiation.
In some cases, we may send your CT scan to a certified Oral and Maxillofacial Radiologist to ensure there is no pathology or abnormalities in the CT scan. This carries an additional fee for the service that will be charged to you. A report will be sent back to our office and shared with you.
If you were referred to our office for the CT scan, the images will be saved onto a CD and given to you to take to back to your Dentist, or it can be mailed.